Join us on board for a day of scenic cruising, exploring remote island trails, wildlife and  learning – the perfect day for walking groups, hiking clubs, and nature lovers!
Full Day / 3 Islands / 4.5 Hours
Group Size: 1 – 20 Guests
Charter Price: $2200nzd
*Lunch packs are additional, and can be organised through local cafes/restaurants in the area, or you can bring your own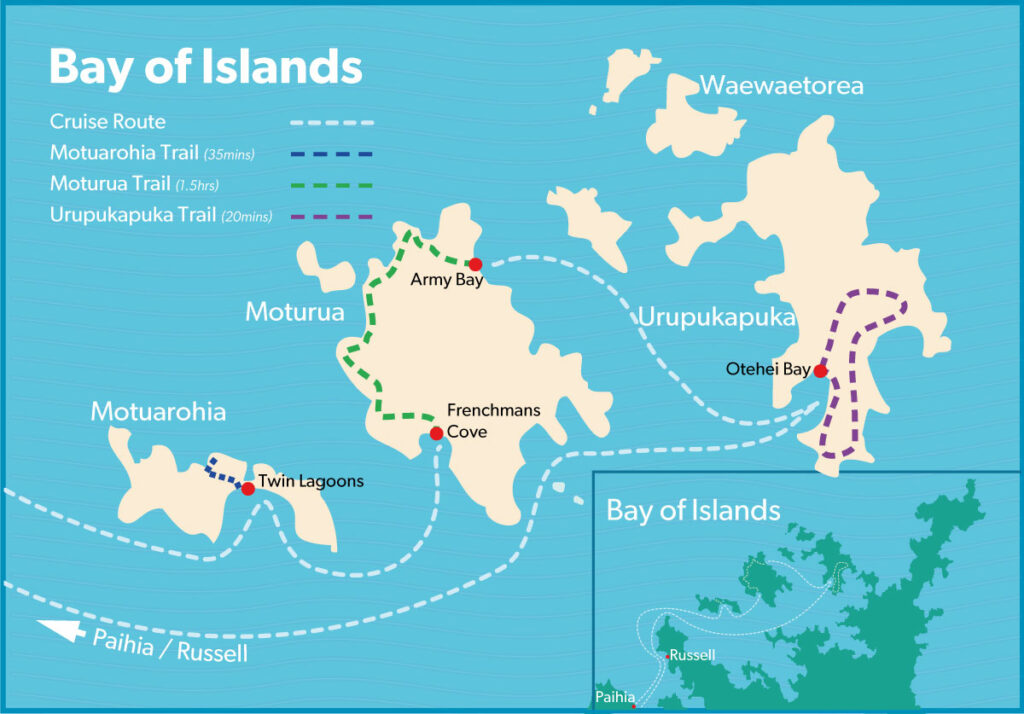 We will pick your group up from Paihia, Russell or Waitangi Wharf. Take a scenic cruise along the Tapeka coastline heading out towards the islands. Keep an eye out for marine wildlife (penguins,dolphins, sea birds) as we approach Motuarohia Island.
Our first stopover at the Twin Lagoons scenic reserve provides a 15 minute walk to a lookout point over the islands. Enjoy exploring the twin lagoons before stepping back on board to continue cruising towards Frenchmans Cove, on the south side of Moturua Island.
From here, take the 1.5hour "half circuit" of Moturua Island, finishing at Army Bay on the northern side of the island where the boat and skipper will be waiting with your packed lunches to enjoy on the beach. There's also time for a swim!
After lunch, sit back and relax as you cruise out to Otehei Bay. Urupukapuka Island (Otehei Bay) has a short loop track (20minutes) to provide viewpoints over the Cape Brett Peninsular, or spend time exploring Otehei, and the Project Island Song Education Centre.
This is also our Voluntary Marine Reserve, with the chance of feeding schools of resident fish, spotting eagle rays/stingrays gliding through the shallow waters, and the occasional octopus if you're lucky!
After we have finished on Urupukapuka Island, we'll take our final cruise back through the islands to finish our tour.